Technology is paving the way to improve energy efficiency and reduce carbon emissions. A good example is the solar-powered security camera setup. Renewable energy like solar power is a great choice for industries and enterprises to include in their product development and commitment to sustainability. 
Hikvision's solar camera range is helping to maximise security at sites where no reliable 'grid' energy source is available. To discover more about the cameras and their benefits for customers with remote sites to protect, we interviewed Hikvision's product manager for IP cameras, Jayson Gao. 
Benchmark: Jayson, why are solar cameras in high demand among customers globally? 
Jayson Gao: There are lots of reasons why customers are looking for solar-powered monitoring and security solutions rather than traditional wired or wireless IP cameras. In some cases, a wired power supply may not be available – especially in remote locations such as mines or farms – making it impossible to monitor and protect people and assets using traditional wireless or wired cameras. 
B: Are there unique regional challenges driving demand for solar cameras? 
JG: Yes, there are. In North America, for example, farmers and ranchers are looking to monitor their livestock and installations effectively, even though some of their lands are 'off-grid. In Africa, we have customers who want to minimise the impacts of power cuts with solar and battery backup. And in the Middle East, energy companies are deploying solar cameras to monitor high-voltage power towers and oil pipelines more effectively in remote locations. 
B: Are there other critical use cases for solar cameras that you'd like to tell us about? 
JG: Yes, one big one is temporary events, such as sporting events or music festivals, for example. These events may be held in city locations without sufficient cabling to roll out a 'wired' camera network. On other occasions, festivals and events may be held in countryside locations, where power and cabling are absent. Whatever the circumstances, solar cameras can be deployed to meet event organisers' security and monitoring requirements quickly, easily, and at an affordable cost.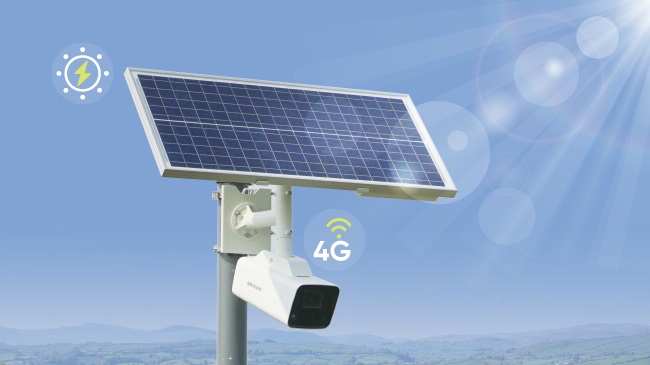 B: How long have solar cameras been around? 
JG: Solar-powered camera systems have been around for a while, but they usually require bundling multiple products in an ad hoc way. You might need a solar panel and, in some cases, a wind turbine, storage batteries, a 4G router, and a security camera that had to be integrated manually, often in a sub-optimal way. This often led to bulky equipment, a short battery life, and high costs – both for equipment procurement and installation. 
B: What is the difference between Hikvision's solar camera range and these 'bundled' solutions you mention? 
JG: We found that those early designs had a common problem. The power consumption of traditional security cameras was very high, resulting in a large battery unit and solar panel, and the battery life was only enough for one day.
The ideal product is small enough in size and light enough to facilitate transportation and setup. In that way, the installation cost will be greatly reduced. Equally important, battery life can be longer if the power consumption is reduced to a low level. That is why we created an integrated solution at Hikvision. 
Hikvision's solar cameras integrate those disparate components in one unit, including a high-resolution 4G camera, rechargeable battery, and solar panel. The units look neat and compact; they're much smaller and lighter overall, down to 13 kg in some cases, so a single person can easily install the solution at remote sites. They have much longer battery life and offer clear and coloured images in even the lowest-light conditions – and even at night. 
B: Solar cameras are great where no other energy source is available, but what happens if the sun doesn't shine much? 
JG: It's not a problem. Our solar cameras are designed to continue recording video footage, even after many days of cloudy weather with very little sunshine. This is achieved by minimising the camera's power consumption (down to as little as 2 Watts in some cases) while also maximising power-storage efficiency in the units' rechargeable battery. 
B: What happens if the weather gets really bad and there are storms or high winds? 
JG: Again, it's not a problem. These units are designed from the ground up to be highly rugged, making them suitable for deployment in any kind of outdoor environment. For example, the units are all waterproof, compliant with IP67 and anti-corrosion ratings, and certified for category 10 or 12 typhoon resistance. Our cameras can also operate normally at both very high and low temperatures, further hardening them for challenging outdoor environments.  
B: What are the options in the solar camera range for customers with different budgets? 
JG: OK, so we have two types of solar cameras. Our 'Advanced series' offers high resolution at 8 MP; it includes Hikvision AcuSense and ColorVu technology for smart security monitoring and full-colour images day and night. The series can withstand adverse weather conditions like low temperature, strong winds and heavy rains. 
The cost-effective 'Standard series' also offers simple recording capabilities with 4 MP image resolution. It also incorporates our ColorVu technology for high-quality colour imaging in low-light conditions.
Learn more: Hikvision solar-powered camera page